There is something about the "mystery dial" of the Zodiac Astrographic watches that brings to mind the whimsical Science Fiction of the 1950s. Although the original watches were released in 1969, at the height of the international space race, they feel a bit more Buck Rogers or Flash Gordon to me. In my youth, my friends and I pretended that our Casio calculator and Timex Ironman watches were everything from communicators to transporters to phaser guns. If only we could have had these instead.  Designed during a time of rampant technological innovation that culminated with the Apollo 11 moon landings, Zodiac wanted to bring that same spirit of unhinged exploration to modern timekeeping. I think they succeeded. With a case shape that can only be described as Avant-Garde and the magically floating hands of the mystery dial, it was unlike any watch seen before, or, frankly, since.
The new 50th anniversary limited editions remain largely unchanged. Being released in silver stainless steel and gold-tone stainless steel, only 182 pieces each, it still has the mystery dial, which is made up of three translucent disks. One each for the hour, minute and second hands. The hour and minute hands are short little bars, meant to resemble satellites orbiting the earth. The second hand is a red dot, which was once referred to in Zodiac advertising as the "fiery-red moon," and has now been changed to represent the next step in humanity's exploration of the cosmos: Mars.
Wearing this thing around so far has been a delight. With a case measuring 40mm X 43mm, it is a touch smaller than the typical modern watch, but I find that to be part of its charm. I have seen some other reviews comment that it feels thicker than the listed 10mm, due to its oddball case shape, and I was a little worried about that prior to receiving it. I don't really like a thick watch. In my opinion, that was a false alarm. It does feel a little different than the typical 10mm watch, due to the stepped case design, but it feels nicely balanced on the wrist with the rest of the dimensions. The oyster-style bracelet feels sturdy and well-made and is 100% gold-toned, unlike some cheaper plated versions I have seen on other watches.
The date at the 12 o'clock position has been retained from the original, and for reasons I cannot explain, I quite like it there. I am usually an ardent no-date guy but this one doesn't bother me in the slightest. Go figure. The heart wants what the heart wants.
These are fitted with the Fossil group-owned Swiss Technology Production STP 3-13 movement. STP was opened in 2008 and fully owned by the Fossil group. It provides movements for Fossil Group brands as well as a host of undisclosed third party brands, making it a little bit like ETA and a little bit like Sellita all wrapped up in one. The STP 3-13 is a competitor to the ETA 2824 and Sellita SW200 movements, in size and function. It is an automatic, hacking movement with 26 jewels, and a 44-hour power reserve and accurate to a listed +/- 15 seconds per day. Beating at a respectable 28.800bph, it keeps that little red Mars sweeping around quite nicely.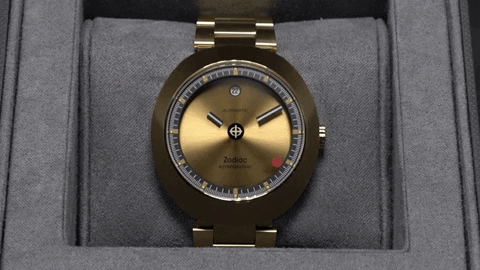 The mystery dial really is a unique little gem. Even though I knew how it worked long before I got it, I still find myself glancing at it from time to time, with a subtle sense of whimsy, and if I am not smiling on the outside, I surely am on the inside. You'll get similar reactions from others as well. More than a few people so far, watch nerds and normal folk alike, have spent upwards of 20 seconds staring at it trying to figure out what is going on, with the most popular guess so far being "magnets?" Nope, not magnets!
My only complaint, I feel obliged to report, has been with Zodiac customer service. The bracelet on this watch was the most difficult to resize I have yet to come across, though not through any fault in the engineering, mostly due to my less than pro-grade tools. The pins just would not come out, and bent and broke 2 bracelet tools that I had lying around. I reached out to Zodiac via email to make sure I wasn't missing something and got zero response. Questions to their Instagram account also went unanswered. When I finally did get a response from their customer service a full seven days later (which is a very long time to wait to wear a new watch), they said: "It looks like you might be in need of some links, we'd be happy to help you order them." I asked them why I would possibly need more links when my problem is that the bracelet is way too big, and this went unanswered for seven more days before finally getting a response that yes, the bracelet just uses normal pins. Luckily, the second jeweler I took it to must have had some industrial-strength tools and was able to sort it out for me while I waited for Zodiac to respond. I know they are part of the gigantic Fossil group, but they need to get their customer service in order to compete in this day and age. If anything goes wrong, I wouldn't expect much help.
Overall this is a really fun little watch with an interesting pedigree and a look that is really unlike anything else on the market. While certainly not versatile enough for a daily-wearer, it fits very nicely in the "fun/weird" or "weekend" categories that most of us have in our collections.
Released for $1295 USD with only 182 pieces of each color, these are sold out on Zodiac's website and most other places that were carrying them. There do seem to still be a few of the stainless steel version available at various 3rd party websites. Otherwise, check your favorite secondhand spots.
Derek  @forsythjones
SPECIFICATIONS
Case size: 40 mm x 43 mm
Case thickness: 10 mm
Lug width: 18 mm
Movement: Automatic STP 3-13
Origin: Swiss
Packaging: Zodiac Black Box and Mission Patch
Warranty: 2 Year International
Water resistant: 10 ATM